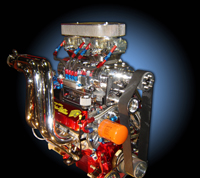 Rob Blakely, the owner of Bullet Engines, has always been fascinated by engines. He was the guy back in high school that was always in the auto shop, under the hood of a car, tweaking an engine.

After finishing high school, Rob went on to Loyalist College and graduated from the automotive technology program. He completed his apprenticeship as a Class A Mechanic at Action Auto in Kingston before setting out on his own to bigger and better things focusing primarily on marine engines.

Like many other successful entrepreneurs, Rob started out small, first setting up shop in the family garage designing and building marine power plants. As his experience and customer base grew, however, he expanded to a 3000 square foot industrial building that includes a complete machine shop and engine assembly area.

As of today, Bullet Racing Engines have powered over 750 boats, V-Hulls and Cats, with power packages ranging from 300 HP to a whopping 1200 HP. Rob has built an excellent reputation as a top notch marine engine designer and builder, and also as a honest and reliable businessman.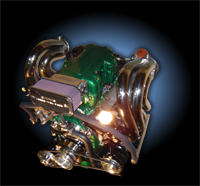 Bullet Racing is located in the center of the boating universe in the world famous 1000 Islands area on the St. Lawrence river bordering northern New York state and south-eastern Ontario. Every summer this beautiful scenic area rumbles from the throaty roar of hundreds of marine engines when the world's largest power boat Poker Run takes place. Over 50,000 spectators line the shores and watch from countless water craft. Bullet engines are found in many of the racing boats that blast down the river at over 100 mph. The most recent Poker Run had 15 boats powered with Bullet engines!

This is the kind of heritage that infects the Bullet Engine team, inspiring them to build the most powerful and reliable engine packages available. They have become the largest Merlin dealer in Ontario, and also represent many other top level names in racing engine components including Callies, Dart, Eagle, Holley, J and E, Lunati, Manley, Mercury Marine, Oliver, and Scat.

Bullet Engines also features a complete "in-house" machine shop with one of the industry's best machinists, Steve Baksi, who has over 20 years of dedicated experience. This means that Bullet Racing is one of the few engine shops around where you can drop of the boat and return to pick it up later with the power plant fully installed and rigged ready for the water.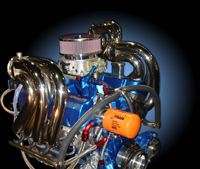 Full rigging, custom paint jobs and the promise of perfection are exactly what you can expect from Bullet Racing Engines. Engine models are available normally aspirated, supercharged, turbocharged, or fuel injected. Bullet Racing Engines makes the purchase of a high performance engine easy thanks to their unbeatable pricing. Engine for engine, HP to HP, our pricing, reliability, and performance combine to beat anyone.

If your desire is to finish first in a poker run, or just have your boat stand out from the rest with a high performance engine package, call Bullet engines.